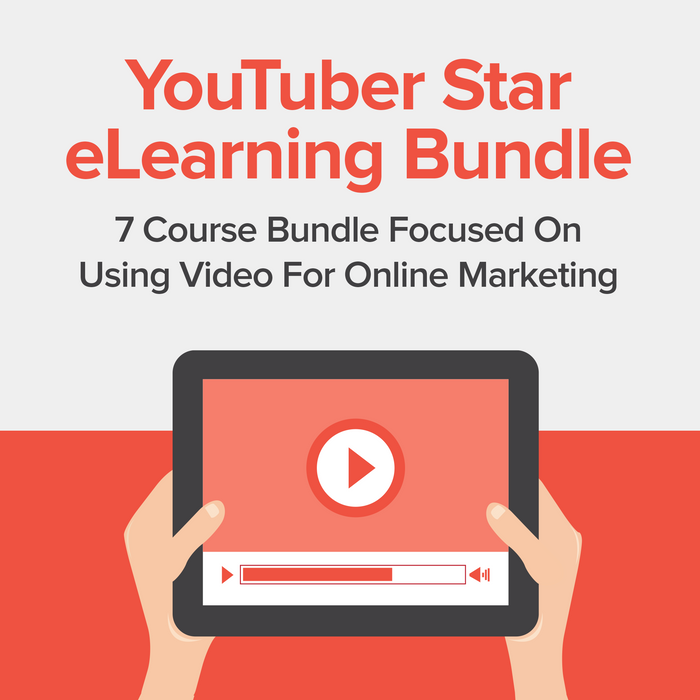 YouTuber Star eLearning Bundle
This year 1.58 billion people will watch at least one YouTube video in a given month, a 7.5% increase from last year.
YouTube is a massive platform that while saturated with a ridiculous amount of content still has opportunities. 
For content creators, YouTube is a traction channel that must be leveraged. This bundle will help you on your journey to driving results from the YouTube traction channel.
The courses in the bundle are:
YouTube Complete Course 2017: Your Guide to YouTube Success
YouTube SEO: How to Rank #1 on YouTube
YouTube Advertising: Beginner's YouTube Ads Blueprint
YouTube Marketing: Beginner's YouTube Pro Blueprint
Create Animated Series for YouTubers in CrazyTalk Animator 3.1
5 unique strategies to sell with video via YouTube marketing
Beginners Guide YouTube Video Marketing Techniques
What You Get
LIFETIME access to all courses and content
7 courses
40 hours of content
All courses are redeemed on AcademyHacker.com. Academy Hacker is an elearning course marketplace for hackers, developers, cyber security pros, and tech nerds.
YouTube Complete Course 2017: Your Guide to YouTube Success
YouTube SEO: How to Rank #1 on YouTube
YouTube Advertising: Beginner's YouTube Ads Blueprint
YouTube Marketing: Beginner's YouTube Pro Blueprint
Create Animated Series for YouTubers in CrazyTalk Animator 3.1
5 Strategies to Sell via YouTube Marketing
Beginners Guide YouTube Video Marketing Techniques