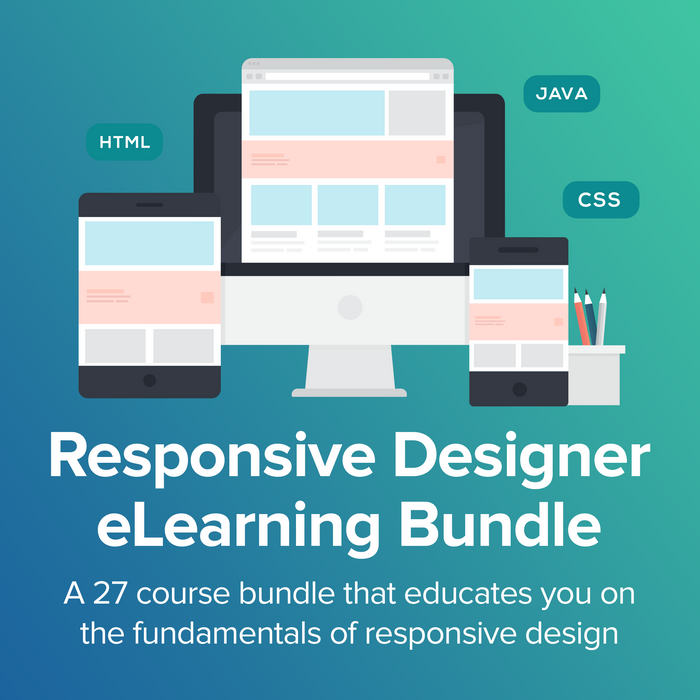 Responsive Designer eLearning Bundle
Responsive Web Design makes your web page look nice on all devices (desktops, tablets, and phones). Responsive Web Design is about using HTML and CSS to resize, hide, shrink, enlarge, or move the content to make it look good on any screen.
According to the Bureau of Labor Statistics, employment of web developers is projected to grow 15 percent from 2016 to 2026, much faster than the average for all occupations. Employment of web developers is projected to grow as ecommerce continues to expand and online purchasing is expected to grow faster than the overall retail industry.
Responsive websites are a must. As a designer or a developer, you must be creating responsive products. This bundle will help you improve your responsive skills.
The courses in the bundle include:
Create Flat Design Spaceships in Adobe Illustrator
The Complete Course: 2017 JavaScript Essentials From Scratch
Mastering Sketch: From Beginner to Advance User
How to create flat design icons in 15 minutes in Illustrator
How To Design A Fortune 500 Logo in Illustrator
Most Wanted Flat Design Techniques #1: Desert Island
Create Apps in MATLAB with App Designer
MATLAB App Designing: The Ultimate Guide for MATLAB Apps
Get a Job As a Frontend Web Developer: A Step-by-Step Guide
Web Design Sales Secret - How To Sell 10+ Websites A Month
Flat Design Tutorial with Photoshop
HTML & CSS - Quickstart | Ebook included
Interactive Web Design with CSS Animation & Transition SASS - Beginner Crash Course
Designing A Website in Photoshop, Illustrator (& GIMP)
The Complete Fullstack Web Developer Course
Build Responsive Real World Websites with CSS3 v2.0
Foundation 5 - Learn Responsive Design & Rapid Prototyping Start Now with Bootstrap 3 | Ebook Included
Build a Responsive Website with a Modern Flat Design
Building Responsive Websites with Bootstrap 3 Framework
Web design: Make your photos look great in web design
Logo design: How To Design an Awesome Logo in Illustrator
Web design: How To Design a Website in Illustrator
Web Design Fundamentals in Illustrator
How To Quickly Get Started with Affinity Designer
HTML5 & CSS3 Site Design
Develop Responsive Websites with Bootstrap 3
The Ultimate HTML Developer
What You Get
LIFETIME access to all courses and content
27 courses
100+ hours of content
All courses are redeemed on AcademyHacker.com. Academy Hacker is an elearning course marketplace for hackers, developers, cyber security pros, and tech nerds.
Create Flat Design Spaceships in Adobe Illustrator
The Complete Course: 2017 JavaScript Essentials From Scratch
Mastering Sketch: From Beginner to Advance User
FREE COURSE: How to create flat design icons in 15 minutes in Illustrator
FREE COURSE: How To Design A Fortune 500 Logo in Illustrator
FREE COURSE: Most Wanted Flat Design Techniques #1: Desert Island
Create Apps in MATLAB with App Designer
MATLAB App Designing: The ultimate Guide for MATLAB Apps
Get a Job As a Frontend Web Developer: A Step-by-Step Guide
Web Design Sales Secret - How To Sell 10+ Websites A Month
Flat Design Tutorial with Photoshop
HTML & CSS - Quickstart | Ebook included
Interactive Web Design with CSS Animation & Transition SASS - Beginner Crash Course
Designing A Website in Photoshop, Illustrator (& GIMP)
The Complete Fullstack Web Developer Course
Build Responsive Real World Websites with CSS3 v2.0
Foundation 5 - Learn Responsive Design & Rapid Prototyping Start Now with Bootstrap 3 | Ebook Included
Build a Responsive Website with a Modern Flat Design
Building Responsive Websites with Bootstrap 3 Framework
FREE COURSE: Web design : Make your photos look great in web design
FREE COURSE: Logo design: How To Design an Awesome Logo in Illustrator
FREE COURSE: Web design: How To Design a Website in Illustrator
FREE COURSE: Web Design Fundamentals in Illustrator
FREE COURSE: How To Quickly Get Started with Affinity Designer
Develop Responsive Websites with Bootstrap 3
The Ultimate HTML Developer