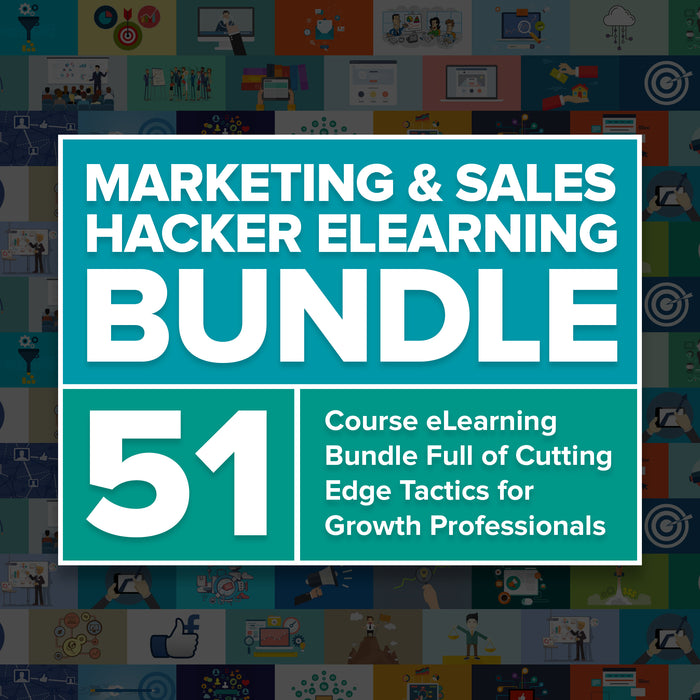 Marketing and Sales Hacker eLearning Bundle
Sales and marketing have changed dramatically in the last 10 years. The pace of change continues to accelerate. As a sales and marketing professional, you must constantly be training in order stay on the cutting edge. The explosion of apps used on a daily basis by sales and marketing professionals also continues to grow. This bundle helps you understand what leading professionals are doing. Learn the best practices and tools used by the pros in order to step up your game.
The Marketing and Sales Hacker Bundle is LIFETIME access to all courses and content.
The bundle contains 51 courses and has 119 hours of content. The courses in the bundle are:
The Predictable Revenue Pipedrive Mastery Course - Become a full stack sales rockstar and build a Predictable Revenue machine
Sales Machine 2017 Conference - The Sales Conference For Next Generation Sales Leaders
Revenue Summit 2017 - 37 video lectures from the leading minds is Account-Based Everything
Sales Stack 2015 Conference - The world's most innovative salespeople and sales solutions
Sales Hacker World Domination eBook - Excel at sales in every stage of the game
Sales Hacker Conference New York 2015 - A conference revolutionizing and shaping the future of sales
Sales Kickoff Summit - 30+ Featured Speakers: Sales, Marketing, and Social Experts
Sales Machine Summit NYC 2016 Conference - Where high-velocity sales teams go to build high performance sales machines.
Clearbit Crash Course - An inside look at some of the best lead gen and list building sales tech
Sales Hacker Conference San Francisco 2014 - Learn from experienced sales execs, entrepreneurs, and industry thought leaders
Sales Hacker Conference Boston 2014 - Scale leads, qualified opportunities, and revenue
Cold Email: How To Generate Over $1 Billion Using Cold Email Strategies - Build your own outbound cold email machine
How to Not Send Crappy Cold Emails - Increase open and response rates with this email hacks
3 Strategies for Scaling Outbound Sales - Learn tips to maximize your sales productivity and efficiency.
How To Get Your First 10,000 Facebook Fans In 2017 - The New, Non-Traditional Way To Grow Your Fanbase Like A Professional
How To Launch A Product Successfully - Step-By-Step Guide To Prepare And Execute A Successful Product Launch From Scratch
How To Discover Viral Content With BuzzSumo In 2017 - The Complete Guide to Use The No. #1 Content Analysis Tool
How To Design A Sales Funnel That Converts - The complete guide to turn your visitors into customers!
How To Research Your Competition With SEMrush - Step-by-step guide to master the No. #1 competitive analysis tool in the market.
How To Analyze Your Niche Market - Discover a data-driven approach to get a better understanding of your market environment.
Powerful Way To Grow Your Business With Contests - Proven & tested strategies to grow your business rapidly with Facebook contests!
10 Hacks To Increase Fan Engagement On Facebook - Discover proven & tested engagement tricks to boost your fan interaction rates!
10 Copywriting Hacks That Work in 2017 - Discover proven & tested copywriting tricks to boost the conversion rate of your sales copy!
How To Create High-Quality Blog Content That Gets Shared - Step-By-Step Guide To Create Blog Content That Gets Shared On Social Media
How To Validate Your Idea And Succeed In Business - Step-By-Step Guide To Validate Your Product Or Business Idea With Facebook Ads
Facebook Marketing: Introduction To Power Editor - Discover proven & tested tricks to get better results on Facebook
10 Facebook Marketing Hacks That Work In 2017 - Discover proven & tested tricks to get better results on Facebook today!
Facebook Marketing: How To Build A List With Lead Ads - The Complete Step-By-Step Guide To Build Your List Without A Landing Page
How To Promote Your Webinar With Facebook Ads - Step-By-Step Guide To Drive Highly Converting Traffic To Your Webinar Squeeze Page
How To Convert Your Facebook Fans Into Buyers - The Complete Guide To Convert Your Audience Into Customers In Three Easy Steps!
How To Promote Your Event On Facebook - Step-by-step guide to give your event more exposure on Facebook
How To Grow Your Local Business With Facebook - Step-by-step training to get more customers with Facebook Marketing!
How To Build A Converting Landing Page From Scratch - The complete step-by-step guide to build landing pages that convert at 50% instantly
Facebook Marketing: How To Improve Your Fan Page Performance - Quick and easy way to reach more people with Facebook Page Insights.
How To Analyze Your Market With Facebook Audience Insights - Harness the power of one of the most powerful analytical tools to analyze your audience
Facebook Marketing: Next Level Traffic Generation Strategies - Deploy these proven & tested Facebook advertising hacks and drive thousands of visitors to your website every day!
Facebook Marketing: Next Level Fan Growth Strategies - How to grow your fan base faster and cheaper with next-level list building strategies
Facebook Marketing: Next Level List Building Strategies - Discover how these three Facebook marketing strategies will add thousands of subscribers to your list instantly!!
How To Craft An Irresistible Lead Magnet To Build Your List - Step-by-step formula to create a compelling offer that will drastically increase the growth of your list instantly
Marketer's Guide To Creating Facebook Ads That Convert - Select high-converting ad images and craft ad copies that resonate with your target audience
Facebook Marketing: How To Build A Targeted Email List - Discover a quick and easy solution to add highly-targeted subscribers to your list instantly!
Facebook Marketing: Advanced Targeting Strategies - Harness the power of our proven Facebook targeting strategies to build your fan base, generate leads and make more sales
Facebook Marketing: Grow Your Business With Retargeting - Learn how to use retargeting to promote your content, get more fans, generate leads and sell your products and services!
Facebook Marketing: Reveal The Power of Promoted Posts - Learn how to use promoted posts to get more exposure on Facebook – even if you have only a few bucks to spend
Facebook Marketing: Drive Highly Targeted Facebook Traffic - The One Thing That Everybody Wants is Traffic. You Simply Cannot Have Enough Traffic!
How to Get Your First 1,000 Facebook Fans: For Beginners - Learn how to build a big fan page community using one of the best and most effective traffic sources: Facebook.
Target Audience Training: Identify Your Ideal Customer - You don't need to waste money anymore by promoting to the wrong audience!
Home Business: The Complete CPA Marketing Course - Find success in a new industry using this totally effective secret strategy.
Entrepreneur's Guide to Effective Design of a Fan Page - Build a fan page from scratch with a particular focus on branding & design like a 6-figure marketer.
Entrepreneur's Guide to Creating Facebook Fan Page Content - Awaken the content & viral engagement monster and take your business to the next level with our private strategies!
Secrets Exposed: Find The Most Profitable Niches of 2017 - You Don't Have To Spend Thousands of Dollars to be a Niche Research Expert
Lessons in Entrepreneurship: Walt Disney
The content is taught by 2 main instructors: Sales Hacker and Sandor Kiss.
Sales Hacker is focused on building and shaping the future of sales through educational, actionable, and unbiased content and events. Data is cheaper and more accessible than ever before. Both buyer and seller have endless amounts of information at their fingertips. Sales is changing and evolving for the better, and we're here to keep you ahead of the competition.
At the age of 16, Sandor founded his first online business. After being a full-time CPA marketer for more than 5 years, he decided to shift gears and use his skills to build companies. His courses serve a very important goal: helping you to transform your life and becoming a successful entrepreneur and marketer.
What You Get
LIFETIME access to all courses and content
51 courses
119 hours of content
All courses are redeemed on AcademyHacker.com. Academy Hacker is an elearning course marketplace for hackers, developers, cyber security pros, and tech nerds.
Lessons in Entrepreneurship: Walt Disney
FREE: Revenue Summit 2017
Facebook Marketing: Reveal The Power of Promoted Posts
How To Promote Your Webinar With Facebook Ads
How to Not Send Crappy Cold Emails
Sales Hacker Conference San Francisco 2014
FREE COURSE: Sales Machine Summit NYC 2016
How To Analyze Your Niche Market
How To Design A Sales Funnel That Converts
How To Discover Viral Content With BuzzSumo
FREE COURSE: Clearbit Crash Course
Target Audience Training: Identify Your Ideal Customer
10 Hacks To Increase Fan Engagement On Facebook
Sales Hacker Conference Boston 2014
FREE COURSE: Sales Stack 2015 Conference
Entrepreneur's Guide to Creating Facebook Fan Page Content
Entrepreneur's Guide to Effective Design of a Fan Page
Home Business: The Complete CPA Marketing Course
How To Get Your First 1,000 Facebook Fans: For Beginners
Facebook Marketing: Drive Highly Targeted Facebook Traffic
Facebook Marketing: Advanced Targeting Strategies
Facebook Marketing: How To Build A Targeted Email List
Marketer's Guide To Creating Facebook Ads That Convert
Facebook Marketing: Next Level Fan Growth Strategies
Facebook Marketing: Next Level Traffic Generation Strategies
Facebook Marketing: How To Improve Your Fan Page Performance
How To Build A Converting Landing Page From Scratch
How To Grow Your Local Business With Facebook
How To Convert Your Facebook Fans Into Buyers
Facebook Marketing: How To Build A List With Lead Ads
10 Facebook Marketing Hacks That Work
How To Get Your First 10,000 Facebook Fans In 2017
How To Research Your Competition With SEMrush
Facebook Marketing: Introduction To Power Editor
Powerful Way To Grow Your Business With Contests
3 Strategies for Scaling Outbound Sales
Predictable Revenue Pipedrive CRM Mastery
How To Promote Your Event On Facebook
How To Validate Your Idea And Succeed In Business
How To Create High-Quality Blog Content That Gets Shared
How To Launch A Product Successfully
FREE COURSE: Cold Email - How To Generate Over $1 Billion Using Cold Email Strategies
Sales Hacker Conference New York 2015
Secrets Exposed: Find The Most Profitable Niches
10 Copywriting Hacks That Work
Facebook Marketing: Next Level List Building Strategies
Facebook Marketing: Grow Your Business With Retargeting
How To Craft An Irresistible Lead Magnet To Build Your List
How To Analyze Your Market With Facebook Audience Insights