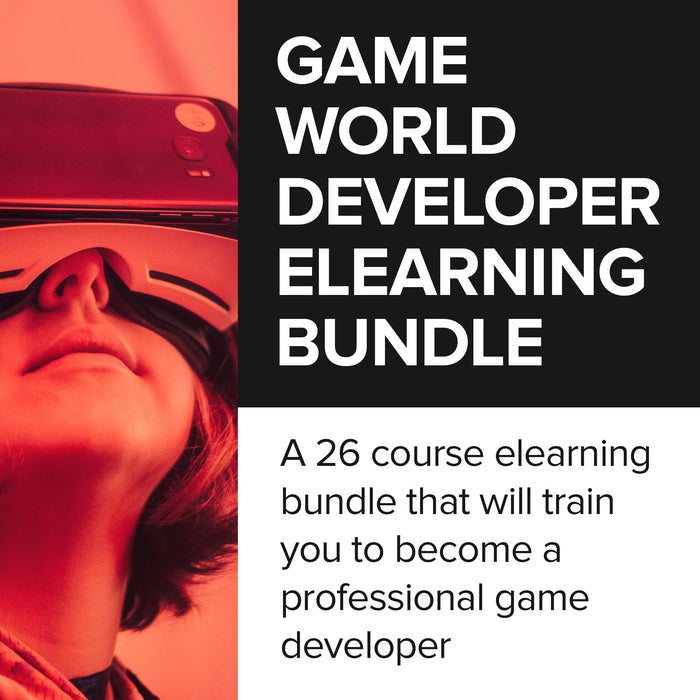 Game World Developer eLearning Bundle
Being a game developer and designer is a tough business. But learning to code using games is an amazingly fun way to start your developer journey. That said game development technologies like Unity are in high demand. 
There are 12,000 job postings on LinkedIn worldwide for Unity developers. Our recommendation is to use this bundle to land a well-paying game developer job. Then work on the side to make the indie game of your dreams.
The bundle contains 26 courses and has 221 hours of content. The courses in the bundle are:
Learn to make 2D and 3D games in Unity - Learn to code in C# and make games!
Build and model a Super MARLO runner clone in Unity3D - Do you want to learn to code and 3D model. Build a simple SUPER MARLO RUN clone with our revolutionary course format.
Mixing Audio for Animation in Audacity - Learn how to put together the music, dialogue and sound effects in a single mix to use in your animation.
Build "The Legend of Zenda" Game in Unity3D and Blender - An introduction to game development and design.
Make a Ninja Survival game for mobile in Unity and Blender - Learn to build a Ninja game for mobile using in Unity. Create the game's art from scratch in Blender.
Create Animated Series for YouTubers in CrazyTalk Animator 3.1 - Learn to use PSD Characters and Animate Each Episode 3X Faster
Make a Portals clone in Unity3D and Blender from scratch - Learn to build a game using portals in Unity3D. Create the game's art from scratch in Blender.
2D Animation in Moho from Basic to Advanced - Learn to Apply the Principles of Animation to Create an Organic Walk Cycle for Your Characters
Writing a Script for Animation in Adobe Story - Learn How to Come Up With A Great Story And Turn It Into A Script In Professional Format
Backgrounds and Assets for Animation with No Drawing Skills - Learn to use Photoshop to produce the images and backgrounds for your animations with no drawing skills
Sketching for Animators Who Can't Draw - The fun and easy way to learn how to draw for animators who can't draw.
Adobe Illustrator Essentials for Character Design - Learn how to turn your paper drawings into beautiful art. Presentable products that you can pitch or sell
Character Design For Animation in Illustrator - Design Memorable Character With a Strong Personality and Learn How to Prepare them for Animation
Rigging a Character in After Effects - Take your Illustrator File and connect each body part to easily control your character for animation
Body Language in Character Animation - Improve your character animation with irresistible body language
Save Time in Character Animation in After Effects - Animation can be a fast process if you know the secret: Do Animation with rigged characters, with a few clicks and drags
2D Animation With No Drawing Skills in After Effects - Learn to create and animate characters who express with body language in After Effects
Direct and Produce Animation - People want to join your project. Learn how to guide them into following your vision for your next Animation.
Cinematography for 2D Animation Essentials - Improve your shots, make the audience feel
Engage Your Audience with Animated Presentations in After Effects - Learn to do dynamic and awesome animations to explain concepts
Using an Editing Software for Animation - Learn How to Use Premiere Pro CC to Create Your Animatic and Put Together the Final Sequence of Your Animation
Game Development with Unity - Create Exciting, Professional Level Games with Unity3D
Build 60 Games in Construct 2 - Learn to build 60 games in Construct 2 without programming. Learn the secrets behind top selling mobile games.
Game Development - Create Arcade-Style Video Games with Python. Become a Game Programmer by Learning the Techniques Used by the Pros!
3ds Max: Complete Intro to 3d Using 3ds Max - Use 3ds Max to follow along with these diverse 3d projects and finish with a strong knowledge of 3d software and tools
3ds Max + Unreal Engine 4: Easy VR for Arch Viz - Use Unreal Engine 4 (free) to turn your 3d projects into a real time / virtual reality project in just a couple hours.
Photoshop: Learn Photoshop For 3d Rendering - In just a few hours, you'll be using Photoshop to take your 3d renderings to the next level. 3ds Max, V-Ray, Photoshop.
3ds Max + V-Ray: 3ds Max PRO in 6 hrs - 3ds Max intro course: 3Ds Max and V-Ray for creating 3D architectural imagery.
The content is taught by 4 main instructors: Adam Zollinger, John Bura, LearnToProgram, and 2D Animation 101.
Adam Zollinger has been working as a professional (and award-winning) 3d artist for over 10 years, but his expertise does not stop there. He has also authored/illustrated a children's book, and created graphics for numerous mobile games.
John Bura has been programming games since 1997 and teaching since 2002. John is the owner of the game development studio Mammoth Interactive. This company produces XBOX 360, iPhone, iPad, Android, HTML 5, ad-games and more. Mammoth Interactive recently sold a game to Nickelodeon. To this day John has 40 commercial games that he has contributed to.
LearnToProgram Media is a leading publisher of web, mobile, and game development courses that are used by over 500,000 people in 65 countries.
2D Animation 101 has a background of 10 years in the film industry at Autumn Leave Films, and over 30 short films produced to this date. They are a group of animators who love to share everything they know about animation, from pre-production, animation, to post-production. Their aim is to equip future animators and game developers with all the necessary techniques and tips to help them do better projects.
What You Get
LIFETIME access to all courses and content
26 courses
221 hours of content
All courses are redeemed on AcademyHacker.com. Academy Hacker is an elearning course marketplace for hackers, developers, cyber security pros, and tech nerds.
Writing a Script for Animation in Adobe Story
Rigging a Character in After Effects
Cinematography for 2D Animation Essentials
Game Development with Unity
Mixing Audio for Animation in Audacity
Backgrounds and Assets for Animation with No Drawing Skills
Adobe Illustrator Essentials for Character Design
Create Animated Series for YouTubers in CrazyTalk Animator 3.1
Learn to make 2D and 3D games in Unity
Build and model a Super MARLO runner clone in Unity3D
Sketching for Animators Who Can't Draw
2D Animation With No Drawing Skills in After Effects
Direct and Produce Animation
Make a Portals clone in Unity3D and Blender from scratch
Make a Ninja Survival game for mobile in Unity and Blender
Build "The Legend Of Zenda" Game in Unity3D and Blender
Engage Your Audience with Animated Presentations in After Effects
Save Time in Character Animation in After Effects
3ds Max + V-Ray: 3ds Max PRO in 6 hrs
Photoshop: Learn Photoshop For 3d Rendering
2D Animation in Moho from Basic to Advanced
Body Language in Character Animation
Using an Editing Software for Animation
Character Design For Animation in Illustrator
3ds Max + Unreal Engine 4: Easy VR for Arch Viz
Build 60 Games in Construct 2
3ds Max: Complete Intro to 3d Using 3ds Max