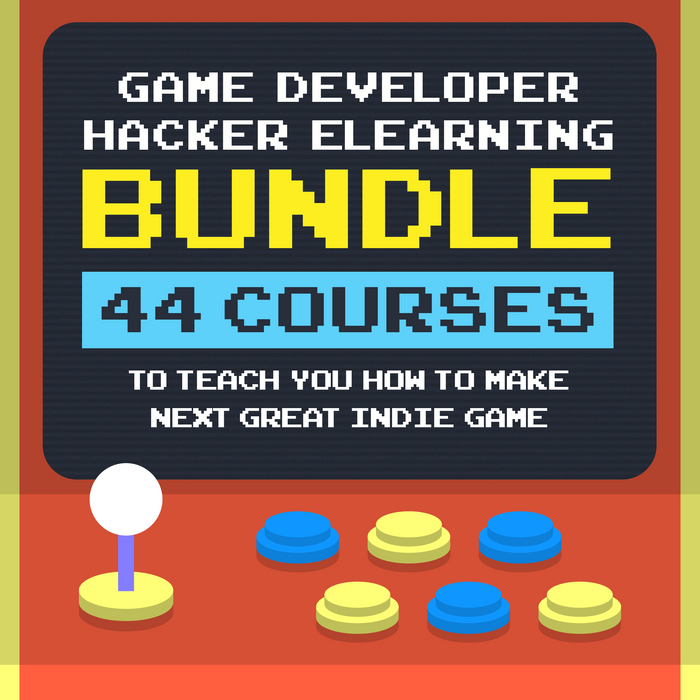 Game Developer Hacker eLearning Bundle
There are only 2,000 jobs worldwide on LinkedIn for game developers. Where developers focused on a specific game development technology can see much more demand for their skills. Unity developers can find 12,000+ job postings worldwide on LinkedIn. This bundle will position you to be a Unity game developer with the ability to make $100,000+ per year. 
The Game Developer Hacker Bundle is LIFETIME access to all courses and content. The courses are:
Unity Game Boost: Coin Management System
Unity 5 Build a System that Generates Houses & Castles Auto
Publish Captain Rocket* iPhone game under 2 hours, Unity 5
Unity 2017 - Email List Building - Why and How
Unity 3D Class: Create a video game fast & business of games
Unity 5 Environment Design using Voxel Art - for everyone
Unity 5 - Inventory System for Professional Games
Unity 2017 - RPG Character Stats and Item Attributes System
Unity 5 pro multiplayer combat using melee & ranged weapons
Unity 5 Host Your Game Server Online like a PRO
Unity 5 Build a chat system for online multiplayer games
Unity Clone the Color Switch Game for iOS and Android phones
Building 3D Voxel Art Environment Worlds with Unity 5
3D Pixel Characters Modeling & Animations for all. Unity 3D
Unity Asset Store
Build Weapons Automatically Unity . Fantasy Edition
Introduction to Game Development with Unity
Begin Unity Programming
Unity 2017 - Character gear and weapon use
Unity 5 Clone Bottle Flip 2k16 fast and publish on app store
Unity 5 techniques to generate unique worlds quickly
Unity 5 Multiplayer InGame Mail Messaging
Unity 2017 Game Physics
Unity Game Analytics
Unity 5 Interact with the database like a pro - php mysql
Learn the Unity 3D Shuriken Particle System
Unity Game Development Academy: Make 2D & 3D Games
Apple TV App & Game Development for tvOS
3D Game Modeling & Animation With Blender
Unity Multiplayer 2017 -Build Online Shooter - code included
What's New In Unity 5
Python Game Development - Create a Flappy Bird Clone
Mobile Game Development with Unity 3D
Java Game Development - Create a Flappy Bird Clone
Game Development with Unity 5
Unity 3D Game Development | 3D Engine Fundamentals
Create Your First 3D Game with Unity 3D
Unity 3d | Using Light and Shadow in Game Development
Learn Level Design with Blender and Unity 3D
Introduction to Unity 3D Scripting in C#
Game Hacking | Create a Game in 1 Hour
Learn Blender Modeling and Texturing
The content is taught by 3 main instructors: Devslopes, Stone River eLearning, and Yohann Taieb.
Mark Price and the Devslopes team are veteran mobile developers having built over 57 mobile apps for iOS, Android, and Unity 3D games, including Call of Duty Ghosts mobile.
Stone River eLearning is a publisher of online video training courses in the fields of programming, development and design. They have sold over 300,000 courses in the last 5 years.
Yohann Taieb holds a BS in Computer Science from FIU University. He has been a College instructor for over 10 years, teaching iPhone Development, iOS 11, Apple Watch development, Swift 3, Unity 3D, Pixel Art, Photoshop for programmers, and Android.
What You Get
LIFETIME access to all courses and content
44 courses
202 hours of content 
All courses are redeemed on AcademyHacker.com. Academy Hacker is an elearning course marketplace for hackers, developers, cyber security pros, and tech nerds.
Beginner's Guide to 3D Modeling 14 Low Poly Buildings for Games
Create Low Poly Game Characters in Blender3D
Make an Angry Birds Clone in Unity - Complete 2D Puzzle Game
Introduction to Unity 3D Game Development
Build Virtual Reality Games for Android and iPhone
Unity Game Boost: Coin Management System
Unity 5 Build a System that Generates Houses & Castles Auto
Publish Captain Rocket* iPhone game under 2 hours, Unity 5
Unity 2017 - Email List Building - Why and How
Unity 3D Class: Create a video game fast & business of games
Unity 5 Environment Design using Voxel Art - for everyone
Unity 5 - Inventory System for Professional Games
Unity - RPG Character Stats and Item Attributes System
Unity 5 pro multiplayer combat using melee & ranged weapons
Unity 5 Host Your Game Server Online like a PRO
Unity 5 Build a chat system for online multiplayer games
Unity Clone the Color Switch Game for iOS and Android phones
Building 3D Voxel Art Environment Worlds with Unity 5
3D Pixel Characters Modeling & Animations for all. Unity 3D
Build Weapons Automatically Unity . Fantasy Edition
Introduction to Game Development with Unity
Unity - Character gear and weapon use
Unity 5 Clone Bottle Flip 2k16 fast and publish on app store
Unity 5 techniques to generate unique worlds quickly
Unity 5 Multiplayer InGame Mail Messaging
Unity 5 Interact with the database like a pro - php mysql
Learn the Unity 3D Shuriken Particle System
Unity Multiplayer -Build Online Shooter - code included
Python Game Development - Create a Flappy Bird Clone
Mobile Game Development with Unity 3D
Java Game Development - Create a Flappy Bird Clone
Game Development with Unity 5
Unity 3D Game Development | 3D Engine Fundamentals
Create Your First 3D Game with Unity 3D
Unity 3d | Using Light and Shadow in Game Development
Learn Level Design with Blender and Unity 3D
Introduction to Unity 3D Scripting in C#
Game Hacking | Create a Game in 1 Hour
Learn Blender Modeling and Texturing