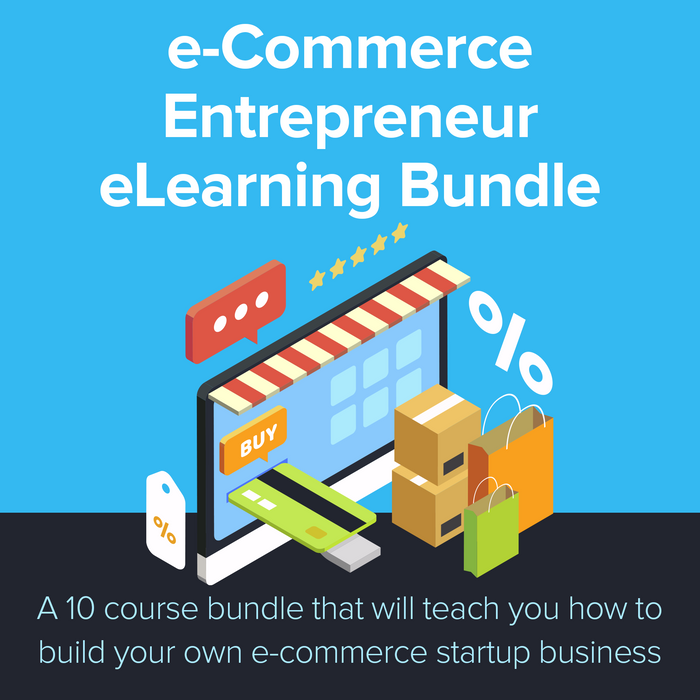 e-Commerce Entrepreneur eLearning Bundle
In 2017 global e-commerce reached around $2.3 trillion and is expected to hit $4.5 trillion in 2021. In the USA alone, ecommerce represents ONLY 10 percent of retail sales. There is still a massive opportunity for e-commerce entrepreneurs.
From Shopify to Amazon FBA to drop shipping, there is money to be made with focus, effort, and execution. This bundle will help you get started. 
The courses in the bundle include:
Shopify - Build Your Very First E-Commerce Website Online
How to build an Etsy e-commerce home business in record time
Online Business Academy - eCommerce
Modern E-Commerce Store In PHP & mysqli With Bootstrap
Amazon - A to Z The Complete Guide to Dominate Amazon FBA
How To Use Pinterest To Promote Your eCommerce Store
Alibaba The Complete Guide to Import from Alibaba to Amazon
How To Make a Wordpress WooCommerce Amazon Affiliate Store
Groupon Marketing: Beginner's Groupon Blueprint
Email Marketing: Beginner's Email Insider Blueprint
What You Get
LIFETIME access to all courses and content
10 courses
30 hours of content
All courses are redeemed on AcademyHacker.com. Academy Hacker is an elearning course marketplace for hackers, developers, cyber security pros, and tech nerds.
Shopify - Build Your Very First E-Commerce Website Online
Build an Etsy eCommerce Home Business
Online Business Academy - eCommerce
Modern E-Commerce Store In php & mysqli With Bootstrap
Amazon - A to Z The Complete Guide to Dominate Amazon FBA
How To Use Pinterest To Promote Your eCommerce Store
Alibaba The Complete Guide to Import from Alibaba to Amazon
How To Make a Wordpress WooCommerce Amazon Affiliate Store
Groupon Marketing: Beginner's Groupon Blueprint
Email Marketing: Beginner's Email Insider Blueprint