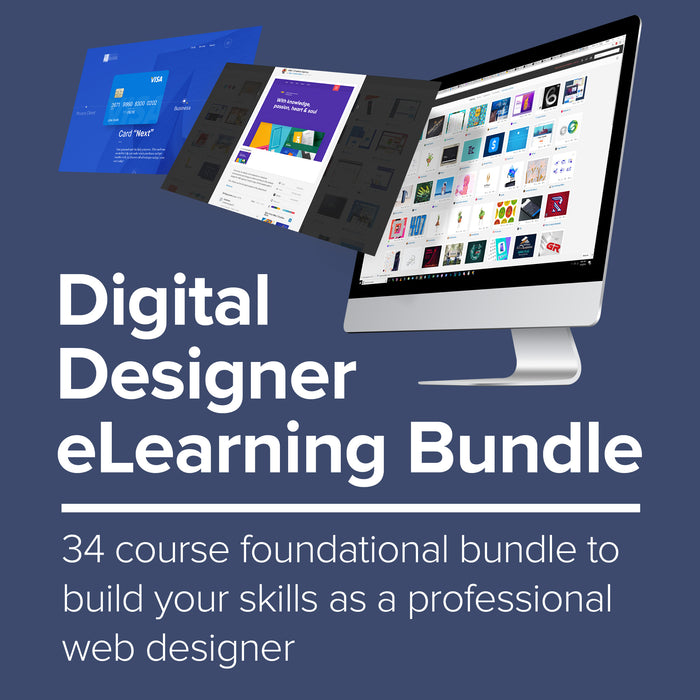 Digital Designer eLearning Bundle
The average web designer is making $50K - $75K+ in the USA. As Web Designers transition into upper-level roles such as Senior User Experience Designer, they may see a strong upturn in salary. Senior User Experience Designers earn $103K on average per year. Going from Web Designer to Web Designer & Developer is the transition that occurs most often in this field. The goal with this bundle is to give you basic web design skills to help you get the foundational skills you need. 
The bundle contains 34 courses and has 148 hours of content. The courses in the bundle are:
Mastering Mobile App Design With Sketch 3 - Learn how to design mobile apps with Sketch 3 for beginners
Mobile Product Design: From Napkin to Launch - Design mobile apps in Sketch 3 & learn the business principles behind product design
Become a Professional Logo Designer - Learn logo design and how to run a successful design business
Mobile UI and UX Design - Makewell-designed apps people will actually use
Create Stunning Promo Videos in 30 Minutes or Less - Use After Effects templates to easily create stunning promo videos
Introduction to Web Design - Learn about web design layout, styling, debugging and manipulating websites with an emphasis on design.
Photo Editing with Corel Paint Shop Pro - Jump start your Paint Shop Pro photo editing skills
Become a Professional Graphic Designer - Learn what your need to know about the art of graphic design
Digital Art with Wacom Tablets and Corel Painter - Learn to use Wacom tablets to create digital art
Learn Photoshop CC Essentials - Learn only what you need to know in Photoshop CC by working on projects
Doing Dreamweaver CC Course - Hands-on Dreamweaver CC training to make websites fast
Getting Started With InDesign CC - Get up and running with Adobe InDesign quickly
Photoshop CC For The Web - How to use Photoshop in web design - the right way
Illustrator CC Crash Course - Everything you ever needed to know about Illustrator CC
Sketch 3 Mobile App Design Course - Mock up mobile apps in a flash with Sketch 3
Applying Design To Wireframes with HTML5 & CSS3 - Turn your wireframes into beautiful web designs
Building Wordpress Themes From Scratch with Photoshop - Generate consistent cash flow by producing custom Wordpress Themes
Building Websites With Photoshop CC - Use Photoshop CC to design awesome looking websites
Lightroom 3 Step Workflow for Adding Snow - Learn how to add snow in Lightroom! Includes snow presets and overlays, plus much more
Lightroom CC Crash Course: 4 Beginners - New to Lightroom CC and lost? Not after this free Lightroom crash course! Learn the basics and more.
Photoshop: Real World Hands-on Freelance Mastery
Why Lightroom Develop Presets Sometimes Don't Work - Have You Ever Downloaded Lightroom Presets, Applied & Thought – These Presets Are Horrible!?!? Find out why and more.
35 Lightroom Presets: That Will Transform Your Fall Photos - Includes 35 Lightroom presets to transform your photos into stunning Fall photos. Bonus video tutorials too!
Lightroom Editing, 30 Lightroom Presets - Learn how to transform green foliage into Fall colors, edit like a pro, re-touch in Lightroom, dodge/burn & much more.
Zombie Apocalypse Photoshop Actions - Easily transform your portraits into Zombies with our Zombie Photoshop action. Learn all the tools to customize too.
7 Lightroom Presets That Will Cut Your Workflow by Up To 50% - Discover 7 preset types that cut my workflow time by 50%. Plus, receive my preset starter kit - includes 35 presets.
Lightroom Preset Academy - The Spring Edition - Pro secret tips for using presets in your workflow. Plus, 35 premium Spring presets.
Illustrator CC - Master Adobe Illustrator CC the Essentials - A complete course on mastering Adobe Illustrator. Learn all the tools and a productive workflow.
Photoshop CC + 6 Made Easy, for Beginners - Photoshop CC & 6 - For Beginners, everything you need to know about Photoshop & be more productive, guaranteed.
Lightroom 5, Master Adobe Lightroom 5 & Be More Productive - Everything you need to know about Lightroom 5 and be more productive.
The Lightroom CC + 6 Made Easy, Taught by a Pro Photographer - Learn all my Lightroom secrets, tips and techniques. Get organized and make your images pop!
Bootstrap Responsive Design
Design for Coders
The content is taught by 3 main instructors: Devslopes, Stone River eLearning, and Chris Parker.
Mark Price and the Devslopes team are veteran mobile developers having built over 57 mobile apps for iOS, Android, and Unity 3D games, including Call of Duty Ghosts mobile.
Stone River eLearning is a publisher of online video training courses in the fields of programming, development and design. They have sold over 300,000 courses in the last 5 years.
Chris Parker has been a photographer and graphic designer for 25 years. His motto is "A productive workflow will allow you to earn more."
What You Get
LIFETIME access to all courses and content
34 courses
148 hours of content
All courses are redeemed on AcademyHacker.com. Academy Hacker is an elearning course marketplace for hackers, developers, cyber security pros, and tech nerds.
Complete Guide to Front-End Web Development and Design
Bootstrap Responsive Design
Photoshop: Real World Hands-on Freelance Mastery
Lightroom Preset Academy - the Spring Edition
Lightroom CC Crash Course - 4 Beginners
Sketch 3 Mobile App Design
Introduction to Web Design
Illustrator CC - Master Adobe Illustrator CC the Essentials
Lightroom 3 Step Workflow for Adding Snow
Getting Started With InDesign CC
Getting Started with Illustrator CC
Photoshop CC + 6 Made Easy, for Beginners
Why Lightroom Develop Presets Sometimes Don't Work
35 Lightroom Presets - That Will Transform Your Fall Photos
Become a Professional Logo Designer
The Lightroom CC + 6 Made Easy, Taught by a Pro Photographer
Lightroom Editing, 30 Lightroom Presets & 3 Photos Included
7 Lightroom Presets That Will Cut Your Workflow by Up To 50%
Applying Design To Wireframes with HTML5 & CSS3
Learn Photoshop CC Essentials
Lightroom 5, Master Adobe Lightroom 5 & Be More Productive
Building Websites With Photoshop CC
Become a Professional Graphic Designer
Mobile Product Design: From Napkin to Launch
Building Wordpress Themes From Scratch with Photoshop
Zombie Apocalypse Photoshop Actions