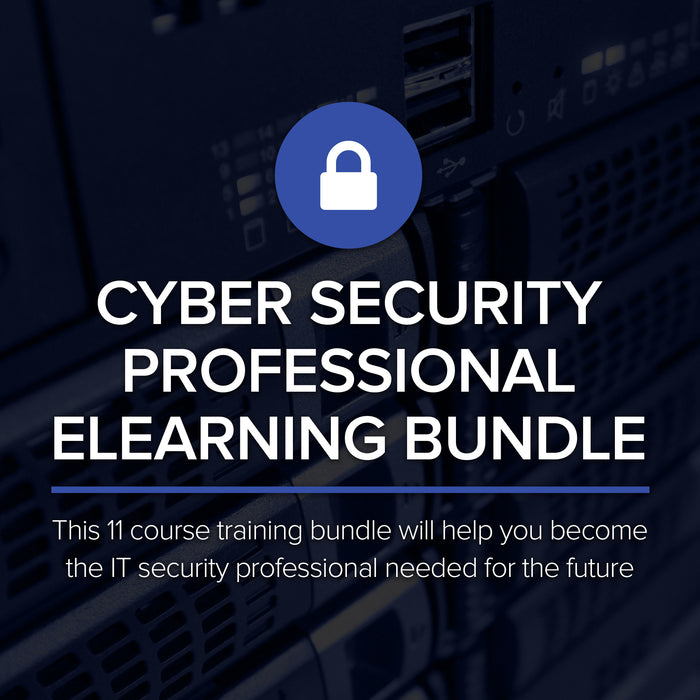 Cyber Security Professional eLearning Bundle
Cybersecurity, computer security or IT security is the protection of computer systems from the theft and damage to their hardware, software or information, as well as from disruption or misdirection of the services they provide.
The demand for Cyber Security professionals is immense. If you want to secure your job future, becoming a cybersecurity professional is an amazing career path.
The courses in the bundle include: 
Learn Kali and Hack any Android mobile device
Learn Hacking/Penetration Testing using Android From Scratch
Complete Ethical Hacking Series: Cyber Anonymity
Ethical Hacking Certification Exam Questions - Crack Exam *
Digital Forensics for Cyber Professionals
The Complete Ethical Hacking Course 2.0
Ethical Hacking Complete Course
Wireless Hacking for Cyber Professionals
The Complete Ethical Hacking Series: Honeypots, IDS and FW's
Database Security for Cyber Professionals
Complete Ethical Hacking Series: Pen Testing the Right Way
What You Get
LIFETIME access to all courses and content
11 courses
100+ hours of content
All courses are redeemed on AcademyHacker.com. Academy Hacker is an elearning course marketplace for hackers, developers, cyber security pros, and tech nerds.
Intro to Cyber Security Certification - Security+ Boot Camp
Incident Response for Cyber Professionals
Learn Kali and Hack any Android mobile device
Learn Hacking/Penetration Testing using Android From Scratch
Complete Ethical Hacking Series: Cyber Anonymity
Digital Forensics for Cyber Professionals
The Complete Ethical Hacking Course 2.0
Wireless Hacking for Cyber Professionals
The Complete Ethical Hacking Series: Honeypots, IDS and FW's
Database Security for Cyber Professionals
Complete Ethical Hacking Series: Pen Testing the Right Way